The class, sophistication and unparalleled beauty of San Sebastián make it one of the most mesmerizing places to visit on the Iberian Peninsula. Most visitors are wise to come on an empty stomach,
for
this sparkling pearl on the Atlantic is also considered Spain's king of cuisine
.
While San Sebastián is home to the highest number of Michelin starred restaurants in the world, its famous pintxos are the beating heart of Basque gastronomy. A pintxo, named after the Spanish word for spike, is a tapa held together with a toothpick or skewer. Most of these savory appetizers are typically served atop a small piece of bread.
The Basques have mastered the art of devouring pintxos through
El Txikiteo
, otherwise known as pintxos crawling. Hopping from bar to bar in search of the best small dishes to share with friends has become one of San Sebastián's most revered traditions. Every afternoon and evening, you can find hordes of hungry Basques bouncing between pintxos bars in San Sebastián's Parte Vieja, or Old Town.
As delectable as these bread-based finger foods may be, this tradition assuredly sounds like a Celiac's worst nightmare. Upon traveling to San Sebastián, the supposed gastronomic capital of Europe, all I heard was talk of the enticing pintxos bars abounding in the town's old quarter. Instead of getting excited about this acclaimed foodie heaven, I felt an impending sense of dread. How would I survive eating gluten-free in San Sebastián?
Fermin Calbeton Kalea, one of the main streets for pintxos hopping
Thankfully, avoiding gluten doesn't mean missing out on the city's best pintxos bars. Eating gluten-free in San Sebastián is no easy feat, but it's certainly not impossible.

The biggest challenge to overcome is the crowds, seeing as swaths of locals and tourists bombard the best pintxo bars during meal times. Getting a waiter's attention to place an order is fairly difficult in the first place, and holding their attention long enough to ask about potential allergens is even more challenging. Due to the sheer volume of people, waiters are typically in a rush and may not be the most friendly. But this is the culinary capital of Spain, so you do what you gotta do.
Never assume that something is gluten-free, even if it sounds like it naturally might be. Always tell your waiters
"Soy Celiaca"
if you have Celiac disease, and be sure to ask if certain dishes can be made gluten-free
(sin gluten)
or made especially without the bread
(sin pan)
. However, because many pintxos are pre-made and laid out on the bar buffet-style, you won't be able to order every pintxo you want without the bread.
It's imperative to always
state your allergy before you order
. If you're nervous about the language barrier, print out a gluten-free restaurant card
in Basque
or
in Spanish
to show to your waiters.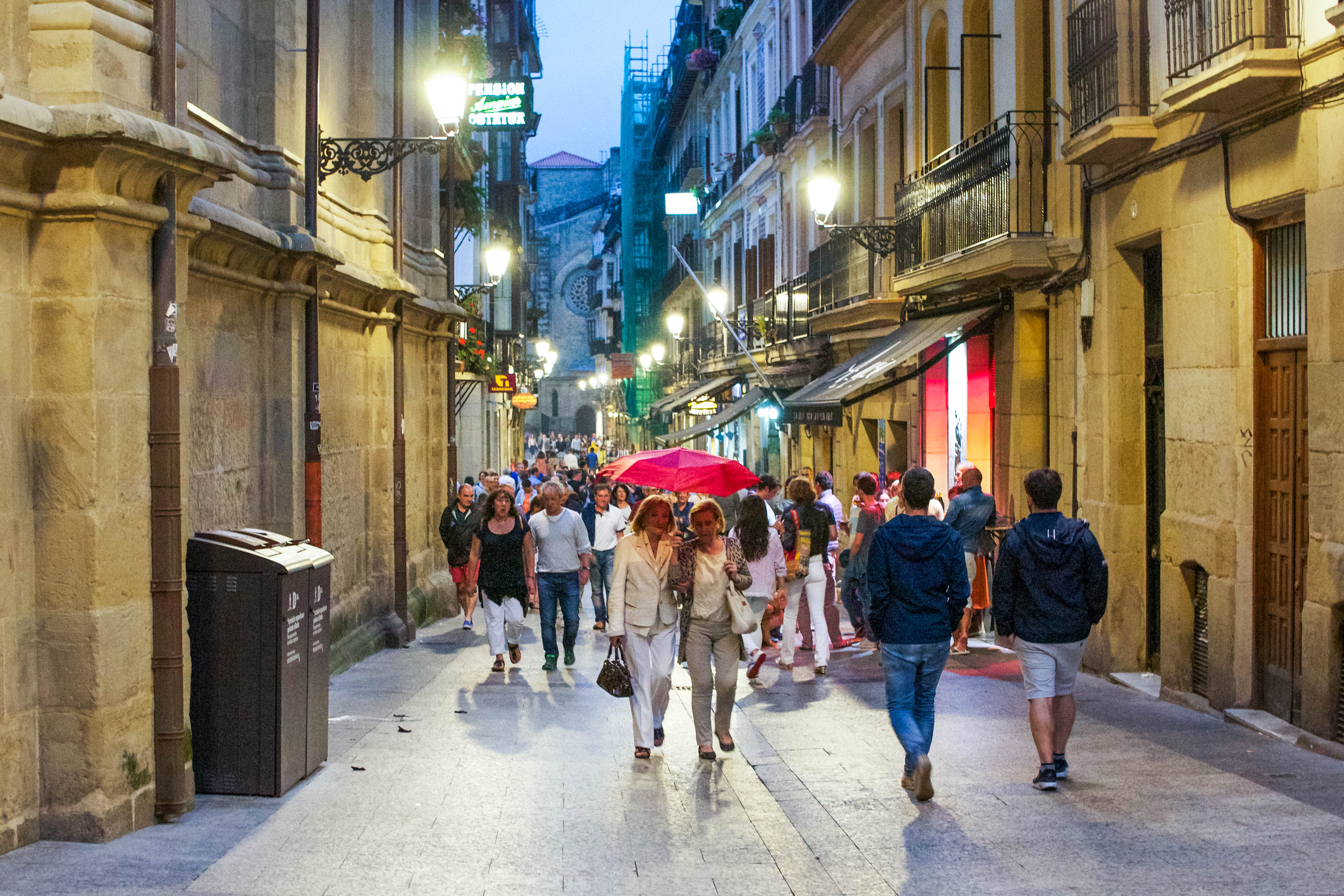 The streets of the old town are typically packed during meal times

Sound daunting? It really isn't that bad. Once you get the hang of ordering pintxos sin gluten, you'll soon be devouring these mouthwatering dishes to your heart's content. Here's where to eat gluten-free pintxos in San Sebastián:
31 de Agosto Kalea, 23
What I Ordered:
Carrillera de buey
- beef cheek
Croquetas de jamón
- ham croquettes
Brocheta de pato
- duck breast brochette
Tosta de queso de cabra con bacon
- goat cheese and bacon toast
Solomillo
- grilled beef sirloin toast
Jamón ibérico
- Iberian ham
Savory, melt in your mouth beef cheeks
The Verdict:
Gandarías was the only restaurant I went to that offered an actual GF menu, which made it the easiest and safest place to eat gluten-free in San Sebastián. They even served some of their pintxos atop gluten-free bread! Every dish we ordered was positively delicious, but the beef cheeks and goat cheese and bacon toast were the best dishes of our day. Due to the relative ease of ordering and the plethora of gluten-free options, this was my favorite pintxos bar in town.
Gandarías' heavenly duck breast brochette
Calle Pescadería, 10
What I Ordered:
Bacalao a la hoguera
- smoked cod with aioli, caramelized onions and liquid salad
"Bacalao a la hoguera" roughly translates to "cod on a bonfire"
The Verdict:
I've always had an aversion to fish, but when this smoking pintxo was offered to me, I simply couldn't pass it up. Served on its own metal grill, this "bonfire" cod was undoubtedly the best thing I ate all weekend. Although Zeruko's modern creations are a bit flashy, I would most certainly go back to San Sebastián just to eat this exquisite dish again.
Borda Berri
Fermin Calbeton Kalea, 12
What I Ordered:
Magret de pato asado lentamente
- roasted duck breast cooked slowly
Entrecot con piquillo y mostaza
- fillet steak with whole grain mustard vinaigrette
Queso de cabra tostado con ciruela
- grilled goat cheese with plums
Is it even possible to say no to goat cheese?
The Verdict:
By the time we hopped over to Borda Berri after the lunch-time rush, they had already run out of many of their famed dishes. What gluten-free options they did have left, however, were remarkably delicious. The busy waiters were curt, but nonetheless helpful. For the best of Borda Berri, make sure to get there early!
Atari Gastroteka
Calle Mayor, 18


What I Ordered:
Huevo a baja temperatura con habas y jamón
- egg cooked at a low temperature
Solomillo con puré de zanahoria y salsa de vino
- steak fillet with carrot puree in a red wine sauce
Patatas bravas
- fried potatoes in a "spicy" tomato sauce
Crème brûlée
The
egg cooked at a low temperature
was one of the most savory bites I feasted upon all weekend
The Verdict:
The waiters at Atari were by far the most knowledgable about gluten-free dining. They were also, unsurprisingly, the most friendly. Unfortunately, this is one of San Sebastian's more pricy pintxos bars, but the security of knowing that my meal was entirely safe to eat made it worth every euro. Atari also offered us a fluffy loaf of gluten-free bread that tasted remarkably similar to a real baguette.
31 de Agosto Kalea, 28
What I Ordered:
Lomo de ternera
- veal loin
Foie gras
Vieira
- scallop
Mouthwatering foie gras paired with a fruity glass of Rioja
The Verdict:

I was really bummed that La Cuchara de San Telmo's famed veal cheeks weren't gluten-free, but the alternatives did not disappoint. The scallop wasn't superb, but the veal loin and foie gras were phenomenal. This bar is where I realized that it would probably be impossible to be a gluten-free vegan in San Sebastián. (This bar was also a blatant reminder that I really, really hate crowds.)


La Cuchara de San Telmo is worth dining at if you can actually find a spot to eat
Fermin Calbeton Kalea, 7
What I Ordered:
Pastel de pato con hongos
- duck and mushroom pie
Brocheta de canguro
- kangaroo skewer
Queso de cabra sobre jamón serrano
- goat cheese over a slice of Serrano ham
Calamares a la plancha
- grilled squid
Duck & mushroom pie, kangaroo skewer, grilled squid, and goat cheese with ham (clockwise)
This pintxos bar was probably the least gluten-free friendly, seeing as the staff had a lot of trouble deciphering which pintxos contained gluten. (Or what gluten was, for that matter.) It all worked out in the end though, and I got to try a plethora of scrumptious dishes. (Who knew kangaroo could be so delicious?!) If you want to ask the waiters about gluten-free options, I recommend going before the restaurant gets very crowded.
Fermin Calbeton Kalea, 4
What I Ordered:
Brocheta de gambas
- prawns skewer
Prawns, where have you been all my life?
The Verdict:
Having hated seafood for most of my life, I had never actually tried a prawn before. Needless to say, this hole in the wall pintxos bar was the perfect place to try my first. I loved every bite! The chunky salsa atop the grilled prawns paired with tart Txakoli, a Basque sparkling white wine, sent my tastebuds to heaven.
Cheers, San Sebastián!
For most of these dishes, I had to specifically ask for them "sin pan", or without bread. Remember to specify this, otherwise your naturally GF pintxo will come on top of a big pile of gluten!

Although I am usually sensitive to cross-contamination, I didn't get sick from any of these restaurants. That said, I did not look into how these bars prevent (or fail to prevent) cross-contamination, so eat at your own risk.
Do you have any food allergies?
How do you survive them while traveling?